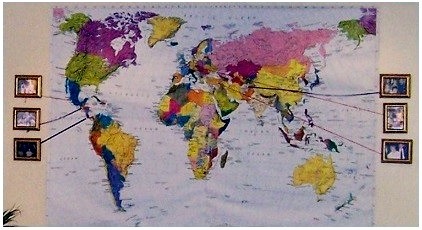 MISSIONS
In addition to the individuals listed below, we also support InterVarsity, the Renewal Prayer Network, Mekeel Christian Academy, Schenectady City Mission, and Youth For Christ (YFC).
Below are listed the missions partners of the Saratoga Chapel. Please hold them up in prayer. We support some financially, some by participation, some through special projects and we love them all.
David and Karen Caldwell — develop Christian youth camps. The focus is to facilitate local church people to engage in relationship building with youth in and close to the church. David is founder of Camps International and RYCCA. The Caldwells live at Los Domos, their "camp laboratory" near Morelia, about 150 miles west of Mexico City, where they are working to help others start youth camps and train camp staff. David is from a fifth generation dairy farm in Clifton Park. Karen grew up in Papua New Guinea as a Wycliffe missionary kid.
Alex & Laura Crum — work in technology supporting Bible translation for those people who still do not have the Word of God in their heart language. Alex is a technical manager helping with development of software needed for translation. Laura is an MK of Saratoga Chapel.
Matt & Nicole Paschall — with United World Mission are serving Europe from Budapest Hungry. They moved to Budapest after serving many years in Senegal Africa planting churches with their four children. Currently with the world's unrest, Europe is experiencing the greatest migration in human history. God is aligning churches and mission organizations to do something more than individual energies could ever accomplish alone.
Matt is overseeing UWM's strategic response to this crisis in Europe by working with national leaders, refugee networks and evangelical alliances responding to the refugee crisis locally and regionally.
Nicole is serving UWM Spiritual Formation by coordinating retreats and developing resources to help missionaries and national leaders to grow deeper in their relationship to the Lord. These tools are greatly needed for those serving on the front lines.
Ted and Juli Kautzmann — Ted and Juli Kautzmann are in a training ministry to train Christian leaders in the Latin American church. This church is growing rapidly, but suffers from lack of trained pastors and leaders. In response to this need Ted has started the Latin America Training Network, (visitProMETA for their website in Spanish), an Internet based graduate training program, so that many people can be trained without the hardship and expense of traveling to a specific location. Their efforts are supported through the Evangelical Free Church of America International Mission.